What is a garment? A three-dimensional element meant to protect against the cold and conceal nudity, anthropologists say; a commercial product whose margins can be comfortable, the CEOs counter. But at Paris Fashion Week, which runs through October 4, some designers are widening the spectrum and pushing fashion into an almost sculptural approach.
Dressing the body: the creators of Coperni took this call literally by calling a little magic onto their podium. It must be said that Arnaud Vaillant and Sébastien Meyer, who relaunched their label in 2019 after their time at Courrèges, are unparalleled in putting technological advances at the service of their desires. We owe them heating jackets or 3D prints. This season they've teamed up with Fabrican, a London-based materials science company, to create the silhouette worn live by star model Bella Hadid.
The latter, in panties, saw a dress come to life on her body through a cotton and synthetic fiber solution sprayed directly on her. As it dries, the material turns into fabric, revealing a white dress with a minimalist design. A fashion moment that went viral on social media, reminiscent of Alexander McQueen's 1999 Savage Beauty show, where a dress was spray-painted in front of the public. Something that eclipses the rest of the Coperni collection, feminine and sensual with its guipure babydolls, sheer chiffon tops, bare shoulders and back.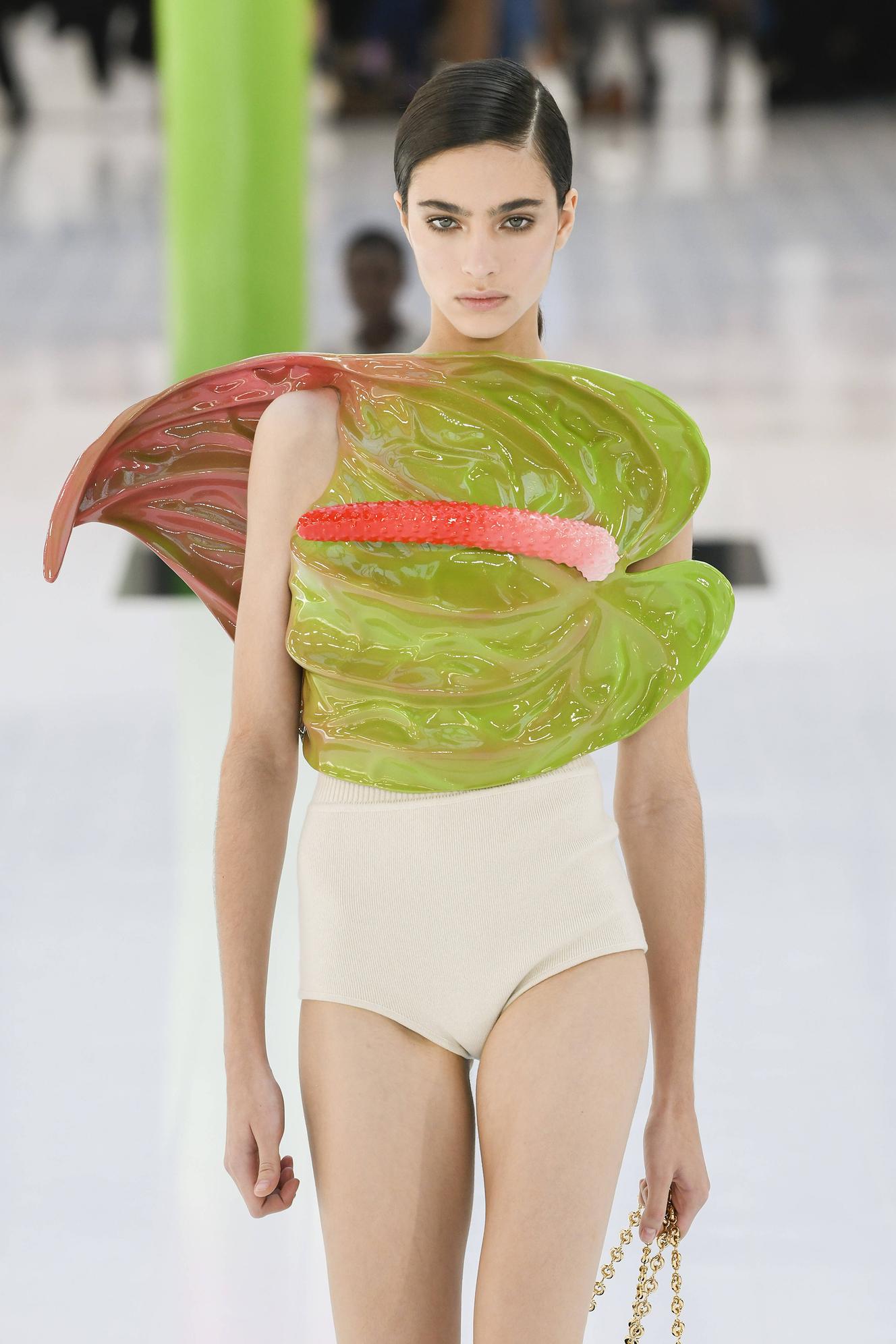 Jonathan Anderson continues his formal research at Loewe. Last season he presented clothing sculptures in the form of cars in the spirit of surrealism. This time he plays with the idea of ​​trompe-l'oeil, symbolized by the anthurium, that tropical flower in the shape of a vermilion heart with a very phallic central spadix. "It occurs in nature, but it seems to be completely wrong"laughs the creator.
Also read:
Article reserved for our subscribers

Jonathan Anderson: "I have no idea what's going to become of fashion! And it's very exciting! »
Each guest received one (real) and a monumental reproduction stands in the middle of the parade ground. The wardrobe, as expected, is experimental but tight around a few ideas: the illusion, of course, with pretty tank tops with floral metal straps, rigid like the clothes we dress Playmobil with. Jonathan Anderson also deals with the topic of shrinkage, with skater dresses that stop in the middle of the buttocks or Canadian dresses that barely cover the waist.
Some sculptural dresses—her trademark—beg questions: What do those three bristle tips on the front of a draped bustier dress represent? Why does a suit jacket seem to have tucked into the skirt of a wicker dress? In the midst of this stylistic laboratory, some dresses made of soft leather stand out, with sleeves so long that they brush the floor: they achieve the successful synthesis between the wearable and the conceptual.
mesh tunics
"A lament for the sadness of today's world and the will to stand up. » This is how Rei Kawakubo speaks. The founder of the Comme des Garçons label uses a noun to sum up her collection, whose spectacular shapes nevertheless raise many questions. Why these cloth covers draped around the head and body, like a caterpillar withdrawn into its chrysalis? Why this incredible prominence on the torso, this steep mountain adorned with a somewhat naïve fabric of black flowers? Why do these soft buoys pile up around the body, from face to navel?
The unusual shapes give the models a grotesque, vulnerable or mesmerizing appeal and are all the more intense as they are supported by a very advanced textile research. 3D roses crowd in a row of bulbs on black silk shorts; opulent floral and multicolored silk jacquards serve as the canvas for a dress with sleeves brushing the floor. Sometimes we feel reminiscences XVIIIe in hairstyles reminiscent of "phew" by Marie-Antoinette – a framework of wire, fabric, synthetic and human hair – decorated here with beige paper origami. Body, clothing and sculpture form an inseparable whole and in a fashion week full of information, posts and likes, a little mystery never hurts.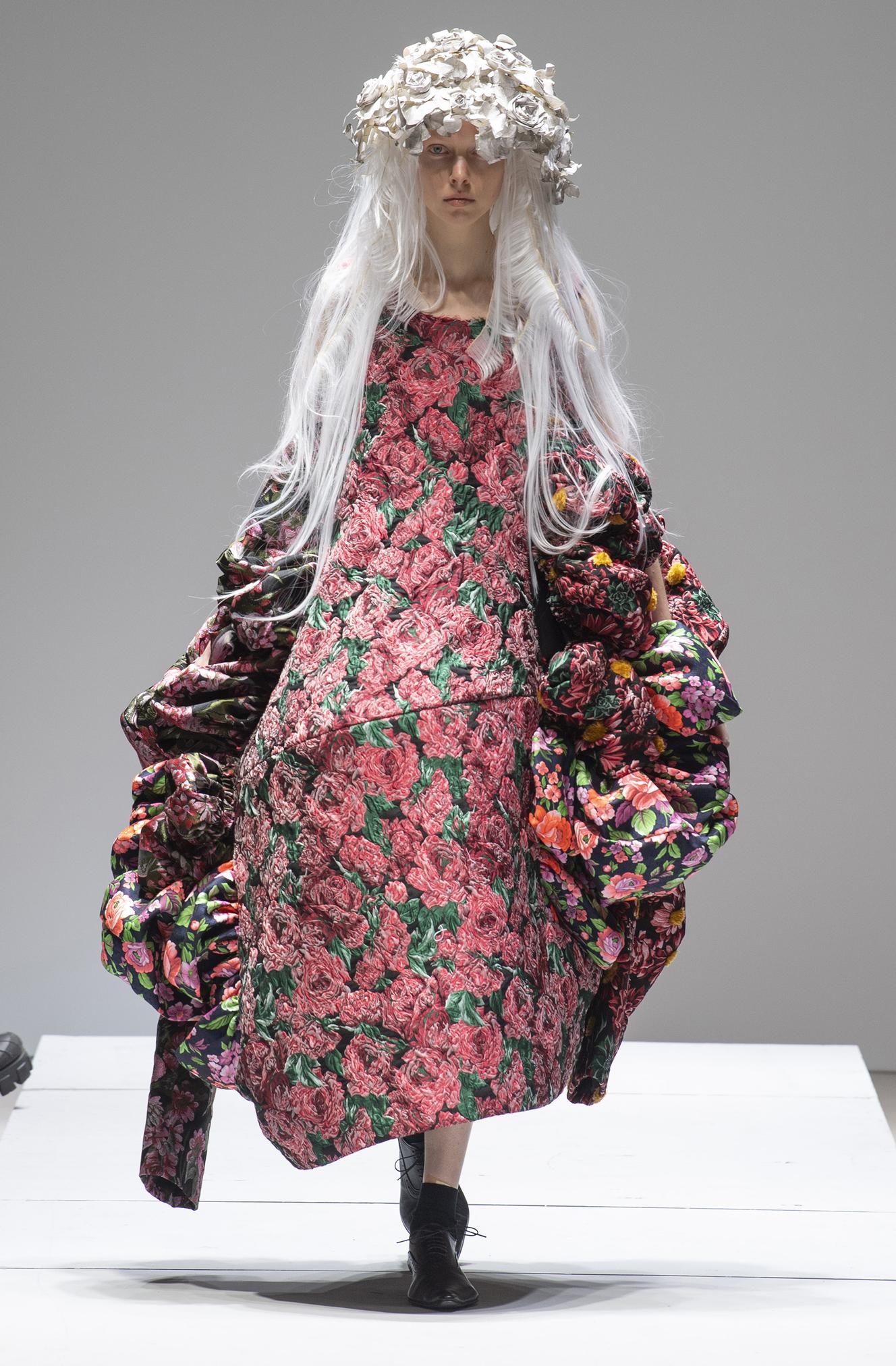 Stable filly Like the boys, Kei Ninomiya has nothing to envy to Rei Kawakubo's bombast. Her label's runway show, Noir, begins with a black openwork tubular construction that wraps around the model's body. His successors wear a pearl gray suit finished with a black leather corset from which emerge large stalks, at the end of which bloom flowers with large petals, translucent mesh tunics on which a blue-green moss seems to grow like magical corals or iridescent garlands, beaded bodices , as if drops of water were circling the bust, or masterful pieces of strands of angel hair that miraculously float (in reality, thanks to a sophisticated plastic and metal structure). Kei Ninomiya's wardrobe is teeming with ideas. It remains to be seen with which bold client he will find his place, or whether he will enter the museum right away.
Also read:
Paris Fashion Week or the praise of sensuality