How can a house survive after the death of its founder? The challenge is open to multiple creators at Paris Fashion Week, which runs through October 4th. The mission deserves finesse: you need "Respect the Codes"they often say while finding space for personal expression.
In the Ateliers Berthier, in the north-west of the capital, many guests whisper that they "do not envy" the fact of succeeding Virgil Abloh (1980-2021) at Off-White, as well as Ibrahim Kamara, a stylist born in Sierra Leone in 1990 who has collaborated with the American, who died of overwhelming cancer, for certain Vuitton shows. LVMH's engine has yet to name a replacement for the post of artistic director of Abloh's menswear, which has been in place since 2018, and rumors are circulating…
For Off-White, therefore, Kamara avoids, without dazzling, the pitfalls of the first collection, incoherent, too dense or too anxious. In a vintage dominated by blue, it weaves certain Abloh gimmicks (the holes that open the overalls or the dresses at the waist level, the boots whose heel imitates the shape of a slinky – a kind of toy in the shape of a spring -, cowboy boots etc.), with an anatomical theme, as if trying to dissect bodies. While dancers with alien silhouettes put on a vitamin-packed performance, models walk through denim ensembles with superimposed X-rays, suits with visible linings, the needles still in the fabric, or with unfinished topstitching. A start on a wire.
Also read:
At Paris Fashion Week, fashion is passionate about sculpture (of clothes)
Miyake everything in poetry
Issey Miyake died in August 2022 at the age of 84, but the succession to the brand that bears his name began in 2019 when Satoshi Kondo took over as head of the studio. A note in honor of the Master, left on each seat, indicates the tone the House intends to adopt, or rather to maintain: "We see design as a curiosity-driven process based on deep exploration, bringing joy, wonder and hope to life, with a dash of fun of course. » Dresses with puffed volumes, as if shaped on the skin, long and flowing jackets, neon colors on coats or asymmetrical dresses got the ball rolling before giving way to a myriad of variations of the famous Miyake pleats, on bias-cut dresses, casual pants or fitted bustiers. A poetic collection that stays true to the spirit of the house and should stand the test of time.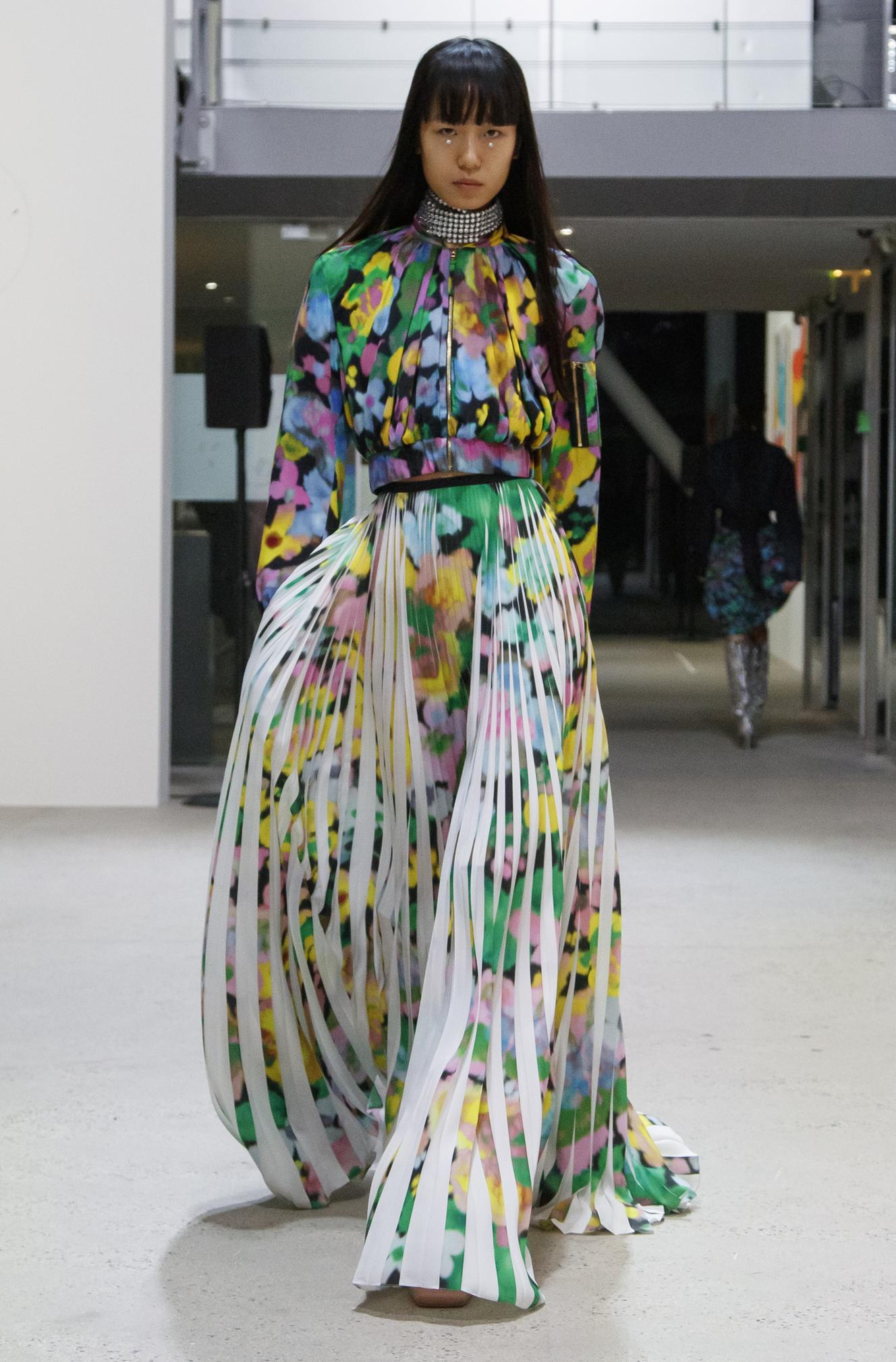 At AZ Factory, the disappearance of Alber Elbaz following the effects of Covid-19 gave way in 2021 to a rotating artistic direction. This season it is Lutz Huelle who offers his interpretation of the couturier that had passed through Yves Saint Laurent and in particular Lanvin. "Alber made clothes with ease and love. We became friends in two seconds: it was this friendship that nourished my desires. I wanted clothes for everyone that friends could share, borrow and try on.", says the German, who has lived in Paris for thirty years. Set against abstract paintings loaned by the Cartier Foundation, black cocktail dresses are ruffled or encrusted with crystals like a disco ball alongside culottes or denim jackets, sometimes brightened with sequins, spring pleated twist dresses and shimmering 1980s chokers, worn by an eclectic cast who have a smile beckons. Like the result of a happy marriage.
Also read:
Paris Fashion Week or the praise of sensuality