The discount of 20 cents practiced by TotalEnergies has been causing record traffic in its network since September 1st. A number of hard-to-assess stations are out of stock while some employees are on strike.
It's a scene that's now become a classic in the Paris region: a TotalEnergies (Total or Total Access) gas station with a totem that doesn't display a price, a sign that all fuels have sold out. Alternatively, there would be a long line at a gas station, where there would be at least one more fuel.
attendance register and strike
The result of visitor records at the petrol stations of the French oil company, which has been offering a discount of 20 cents since September 1st. It supplements that of the federal government, which has risen from 18 to 30 centimes since the start of school. A price effect that logically attracts most motorists to its stations, with prices below mass sales, which often use fuel as a loss-maker and offer it at "cost price".
Result: many stations sold out. If official, it was only a hundred out of 3500, according to TF1 In fact, last Friday they were much more likely to be at least partially sold out if you consult the interactive map available on the TotalEnergies official website. The phenomenon would particularly affect the Île-de-France with 17 out of 40 total stations France Blue Paris. That's almost every second person.
The strike for wages, which continues this Tuesday, October 4th, is unlikely to help matters. Among the sites affected is the Normandy refinery near Le Havre, which accounts for 22% of the territory's refining capacity and which CGT said would be closed.
However, TotalEnergies rejects an increased risk of bottlenecks in its stations. "Despite the social movement on the Normandy platform (…) there is no shortage of fuel because TotalEnergies has built up stocks and is currently carrying out regular imports," a spokesman for TotalEnergies told AFP one of the group's three refineries "is on strike" (with a strike number , which would be low at the other two locations, editor's note).
How do I find a station?
With this discount of 20 cents since September 1st and until October 31st, Total gas stations stand out as the cheapest. But with the waiting time or fuel shortage, some no longer hesitate to refuel at competitors. So how can you be sure to find the fuel at the best price, but more importantly the gas station that stocks it?
If you want to benefit from the best price, the easiest way is to consult the official map on the TotalEnergies website. The only problem: there are no waiting times at the station, which is to be expected given the price difference at the moment. Some stations also do not appear on the map depending on the zoom level.
On the other hand, it seems to be updated fairly regularly, without however guaranteeing the availability of fuel or its price once it arrives at the pump. A petrol station contacted by phone on Tuesday was therefore out of all fuel, while the TotalEnergies website stated that E85 was still available.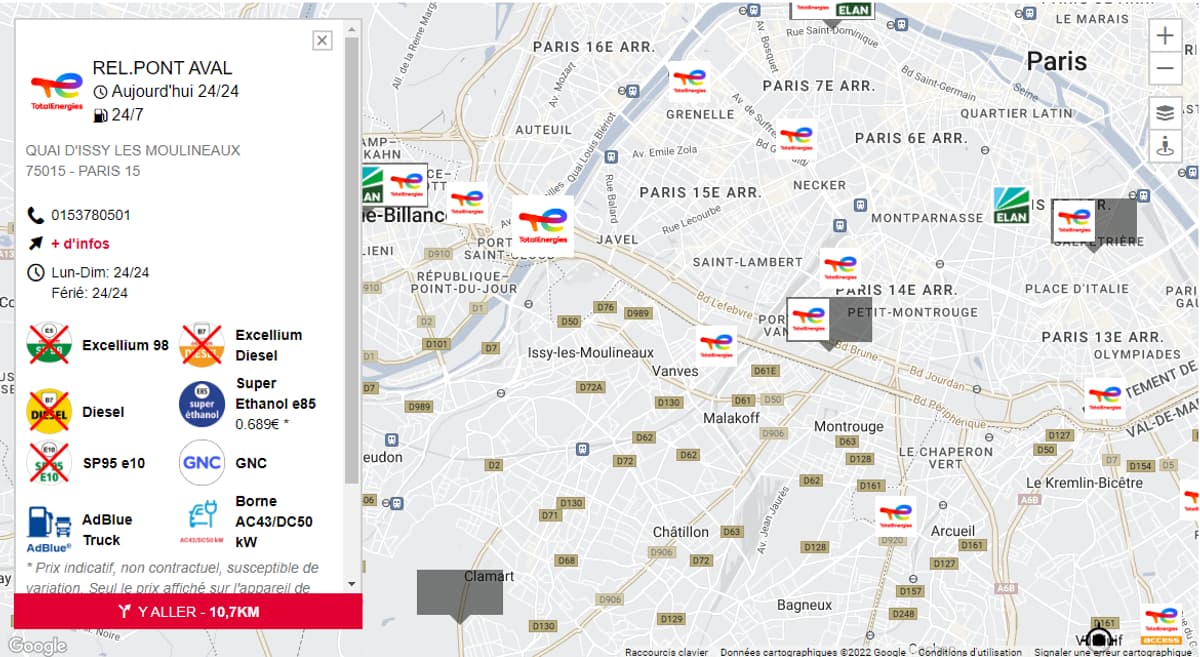 However, the TotalEnergies Services application on iPhone and Android does not indicate fuel availability. Too bad for a tool that is suitable for quick advice.
Mobile apps to the rescue
Another solution: consult the stations in a browser like Waze, nearby or on a specific route. The large number of users increases the probability of up-to-date information, be it about a price increase or information about a partial or total cancellation.
In the latter case, the application should not send you to a gas station that lacks the fuel you want. To do this, you need to enter your "Preferred fuel" (selectable in the application settings, in the "Driving settings" section, "Fuel stations" tab). In these settings it is also possible to choose your "preferred brand" corresponding to the gas station network. Convenient if you absolutely want to give preference to Total or, on the contrary, another brand.
Websites and applications that focus on this feature of finding the best gas stations can also be useful. For example, Essence&Co and its website mon-essence.fr offer updated prices but do not necessarily indicate stock shortages. An update too far back can be a good indication that a gas station is running out of fuel. So give preference to stations whose price has been updated throughout the day.